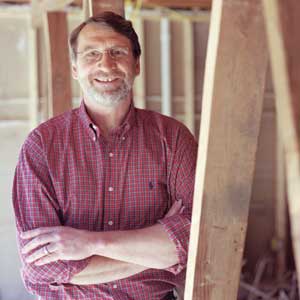 Q: When we installed tile on our floors, we had to shorten many of our doors. However, we cut one sliding closet door too short. Do we have to buy a new one?

—Betty Hawley, Albuquerque, N.Mex.

A: Norm Abram replies: I don't think so. First, try lowering the door by adjusting the roller track hardware attached to the door's top edge. You either turn the nut beneath each roller—a thin, flat bicycle wrench will come in handy in this tight space—or loosen the screws that hold the slotted bracket to the door. You don't have to remove the door. But if it's still too high, you can always lower the track itself. Here's how to go about it:

1. Get a piece of wood the same width and length as the track and as thick as the amount you need to lower the door.

2. Remove the door and the track, then screw the wood to the top of the door jamb.

3. Paint or stain the wood to match the jamb, then reinstall the track and rehang the door.

Some door tracks are concealed with a piece of trim. If that's the case, you might have to replace it, but that would be a lot less ­expensive than buying a new door.