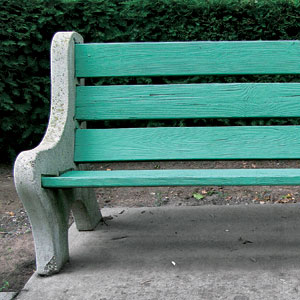 Q: We have an outdoor bench with concrete ends and wood slats that has been in our family for many years. The slats have been replaced and repainted many times, and now it looks like we'll have to do it again. Is there a material we can use that's more durable than painted lumber?

—Joan Delpino, Chesapeake City, MD.

A: Norm Abram replies: Maintaining any outdoor furniture made of painted wood is a chore. And it's made worse in your case because the slats sit in pockets that hold moisture against the end grain, where the wood is most likely to suck it up. The wood stays wet, so the paint fails and rot takes hold.

You can't change the situation, so at least change the wood to a type that does well outdoors: teak, cypress, cedar, ipe, or preservative-treated pine. You could let these woods weather naturally to a soft gray color or oil them regularly to help maintain the original color. Teak and ipe are good choices because they're stiff and won't sag as much as cypress or cedar when you're sitting on them, but they are fairly pricey. Preservative-treated pine is stiff, durable, and relatively inexpensive. Composite deck boards won't rot, but they're not nearly stiff enough to hold someone's weight.

Before you put in the new boards, seal their ends with a coating such as Anchorseal. The last thing I would ever do is paint the wood—too much maintenance.