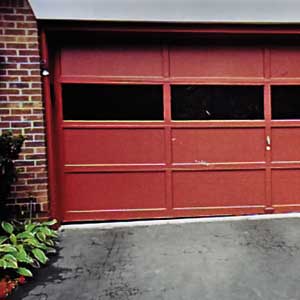 Q: There's a gap under my garage door on one side. How do I get rid of it?

—Frederick Carberry, Hendersonville, N.C.

A: Tom Silva replies: Sometimes gaps appear when wooden garage-door panels sag, but your panels look nice and straight. I think the slab has moved, and you can't do much to fix that, so instead you'll have to work on the door. Heavy weatherstripping nailed to the bottom of the door can close small gaps. In your case, the solution is to cut the door's bottom rail to fit the sloping slab.

To do this, close the door and set a compass to span the gap at its widest point. If the gap is 3/4 inch or less, scribe the slope of the slab to the door's bottom rail by running the pointed leg of the compass over the concrete while holding the leg with the pencil against the door. Keep the points of both legs aligned vertically as you go. Now open the door to a comfortable working height and cut along the scribe line with a jigsaw. Test and fine-tune the fit, then sand and seal any bare wood with paint and replace the weatherstripping.

If the gap is more than 3/4 inch, you might be able to add a strip of wood to the bottom of the door and scribe that to fit the slab. But before you try this, call an installer to see if the door track or locking hardware will have to be adjusted, a job best left to a pro.