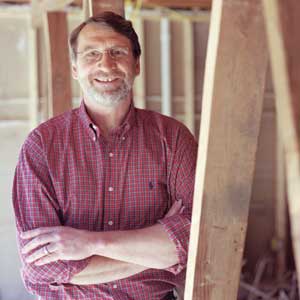 Q: I have completely refinished my solid-cedar front door twice—by sanding it to bare wood, staining it, then applying a marine spar varnish—but the finish still doesn't hold up long under our fierce desert sun. Is there anything I can do to help this door?

—Mary Zahora, Gold Canyon, Ariz.

A: Norm Abram replies: I can tell you from personal experience, with the oak threshold at my front door and the teak on my boat, that keeping a clear finish on outdoor wood isn't easy.

First, you need to prepare the surface properly by completely removing the finish and any sun-damaged wood. When the surface is pristine, apply at least five coats of marine spar varnish loaded with UV inhibitors; one or two coats isn't enough. Then, once a year, sand the varnish with 220-grit paper and apply two more coats, which provide fresh protection from the sun. That's what I do with my boat, and it's only exposed to the weather about seven months of the year!

If that sounds like too much work, and painting the door isn't an option, try an ­exterior-grade penetrating oil like Penofin or Australian Timber Oil. Penetrating oils don't form a hard, glossy finish like varnish, so they can't peel. And while you'll need to reoil the door more frequently—at least twice a year—at least oil is easy to apply. I've used it on some outdoor furniture projects and it holds up pretty well if you keep after it.