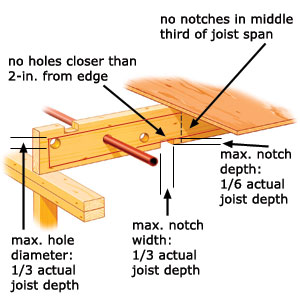 Q: I'm remodeling a bathroom and would like to relocate the existing tub drain. But to do that I'll have to notch or drill through the 2x8 floor joists. Is that okay?

- Patrick Burns, Ballwin, Mo.

A: Kevin O'Connor replies: I often have similar questions when I'm working on my own house, but I can usually find the right answer in the most recent edition of the International Residential Code book, which is probably on a reference shelf at your local public library. It shows exactly what you can do to a sawn-lumber joist without weakening it.

Here's what it says about notching: No notches in the center third of a joist; and in the ends where you can cut notches, they can't be any deeper than one-sixth the actual depth of the joist or any wider than one-third its depth. In your 7-1/2-inch-deep joist, that means the notch can't be any deeper than 1-1/4 inches or any wider than 2-1/2 inches; too small for a drain pipe.

The code is more forgiving about drilled holes. They can't be any closer than 2 inches from the edges of the joist, and their maximum diameter is one-third the joist's depth. In ­other words, you're allowed to drill a 2-1/2-inch hole, which should be just enough to accommodate your pipe.