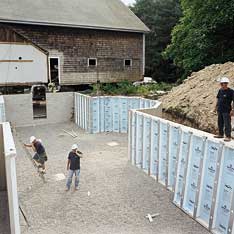 If you'd blinked, you might have missed the construction of the ell and the new master bedroom suite at the project house in Carlisle, Massachusetts. In the space of a single day, an empty hole acquired a finished foundation of precast, insulated concrete panels. A few days later, prefab I-joist floor sections went in. Then came framed, sheathed, and insulated walls — all at once, using structural insulated panels (SIPs) that were custom-made in a factory 800 miles away. A few more days and the SIP roof panels were lowered into place with a crane, followed by 12-inch-thick SIP floor panels for the 155-year-old barn.

It's all part of the This Old House plan to demonstrate how modern building technology can help bring a tired old house back to life in a fraction of the time it used to take. By contrast, it would take TOH general contractor Tom Silva's crew two weeks just to frame and sheathe this much house — about 7,000 square feet of exterior walls and roof — plus a day to insulate. That's not taking into consideration the time needed to form and pour a concrete foundation and frame up 3,300 square feet of new floor joists and subfloor.

This form of panelized construction is still a niche business — about one percent of American homes are built with SIPs — but it's easy to see why the industry is growing by 25 percent annually. "The panels are fast, they're straight and true, and they don't move around," says Tom. Plus, they're stronger and more environmentally friendly than stick construction. Still, speed is the main advantage for the TOH team, who have to adhere to a television show's strict schedule. With the new construction taken care of, Tom and his crew will have the time they need to carefully renovate the older parts of the house.