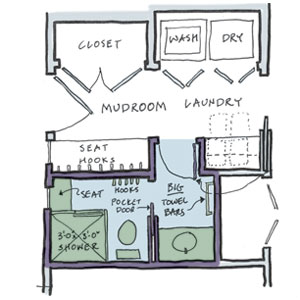 As American family life has changed, so has the way we think about our home's "service" spaces. Two-earner heads of household, single parents, and those who work at home have little time left in their schedules to spend on domestic activities. That's why, rather than constantly picking up after children, we now have mudrooms with convenient built-in storage for kids' stuff.

Instead of an isolated kitchen for preparing beautiful platters of food for guests in a remote dining room, we have "social kitchens," where cooking and entertaining happen together. Instead of a basement laundry room and endless trudging up and down stairs, we've moved the washer and dryer closer to living spaces, or even put satellite laundry rooms over multiple floors.

The next room headed for extinction is the powder room. The old-fashioned powder room was the architectural equivalent of "good" china or silver — used only on special occasions by visitors. But more and more, in all but the largest homes it functions as another family bath.

After all, potty training needs proximity, dirt is better headed off on the first floor than tracked upstairs, and who wants to wriggle out of wet workout gear in the bedroom?

Thus evolved the "extra" bath: a half or three-quarters bathroom annexed to a wide variety of household spaces. It can be steps from the mudroom, garage, or back door, adjacent to a home gym or office, next to the media room, or even part of the master suite. Here's a look at a few common scenarios.