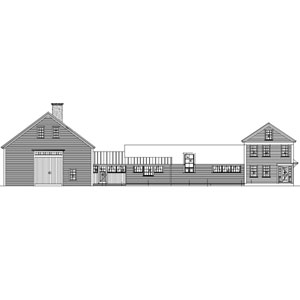 Country kids in New England used to recite a peculiar singsong when playing hopscotch: "Big house, little house, back house, barn." Peculiar, that is, unless you lived in rural New England, where connected farm buildings sprang up across the countryside during the mid-19th century.

This fall's TV project in Carlisle, Massachusetts — the centerpiece project of This Old House's 25th anniversary — is a good example of the connected farm: an 1849 two-story home (the big house), attached to a one-story ell that held the kitchen and various workrooms (the little house), which was in turn linked to an even more utilitarian space that sheltered the carriages and the privy (the back house, sometimes a euphemism for the outhouse), and finally the cavernous barn itself.

In a twist befitting an anniversary celebration, there are no homeowners on this project. Just as with the first TOH project in 1979, the show has purchased the farmstead and will sell it after the renovation. Our own crew stands in for the homeowners, making decisions about design, materials, and architectural changes.

Supplying many of the choices for these decisions is Boston architect Jeremiah Eck, who is known for combining contemporary living spaces with traditional design. His design sensibility makes him just the right person to bring the connected farm of our Carlisle project forward into this century. Such farms were considered very modern when they were built, evolving constantly with the addition of new buildings or existing outbuildings hauled by oxen to the site.

Put in that historical context, our renovation of Carlisle's Bradford Heald house is simply the latest chapter in the evolution of a venerable connected farm. Alas, the eventual owners won't be farmers, even if their kids still play hopscotch behind the barn. But by adapting the house for the way people live today, we're hoping to be as forward-thinking as those modern Yankees who worked the land a century and a half ago.