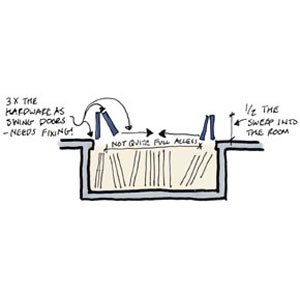 Outfitting Closets

Your options for outfitting a closet are now nearly as wide as your choices for furnishing your house. Years ago, all you got were poles, hooks, and shelves. Today, custom millwork is not uncommon, with levels of visual finish as sophisticated as any high-end kitchen or bath.

New closets. If you don't say anything to a contractor, you'll get a basic "pole and shelf" setup: a single pole with a fixed shelf above it. Then it's up to you to customize the interior yourself. Typically built and painted on-site, this is the least expensive way to go.

The next step up is multiple poles and shelves of varying lengths and heights to accommodate different types of garments. Typically, the vertical partitions holding up the poles are used as the sides for adjustable shelving. The components can be shop built and painted on-site or, for a more durable (and expensive) finish, surfaced with melamine or laminate.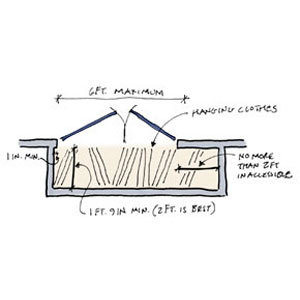 The third option is shop-built, prefinished wood — essentially furniture that is designed and dimensioned to fit your closet interior precisely. Custom-made dresser drawers, shoe cubbies, shelving, and partitions give you the maximum amount of storage but also cost the most money.

Existing closets. The quickest way to increase storage capacity in an existing closet is with a standardized closet "system." The classic coated-wire basket system is widely available, simple to install, and inexpensive, but often has bins that are too deep to allow for easy access to smaller items. Garments can also catch on the wire shelving.

Supplier-installed standard systems, professionally designed and measured to fit your closet, cost less than a custom-crafted interior but are far more expensive than the do-it-yourself option. The upside is that they have true drawers, offer the maximum storage capacity, and have a more finished look.