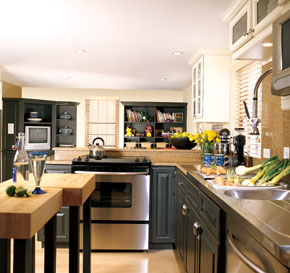 Common sense would tell you that if you want to do a whole-house renovation in a mere four months, you shouldn't go to a place like Bermuda, where rest and relaxation is the primary industry. Still, last November This Old House television showed up in historic St. George's and set to work on a 200-year-old Georgian house owned by innkeepers Delaey Robinson and Andrea Dismont. And sure enough, by mid March the once-vacant house was again filled with signs of life: a freshly minted addition, bright new plaster over Bermuda limestone walls, a sparkling family kitchen, a beautifully sculpted landscape, and Delaey and Andrea's two sons, Kelsey and Myles, running barefoot throughout.

The house, known as Harbour View, has belonged to Delaey since the early 1980s. But it had fallen into disrepair after he married Andrea and moved out eight years ago. A recent hurricane had left part of the roof ripped off, the kitchen was filled with debris and sorely out of date, and the rest of the rooms held a jumble of cast-off clothes and furniture. Meanwhile, the family was busting out of a small apartment on the grounds of the couple's nearby bed-and-breakfast, Aunt Nea's Inn. Moving had become a necessity, but no one was going anywhere until the old house got a long-overdue upgrade.

With the help of local architect Colin Campbell, the couple came up with a plan that re-purposed all of the downstairs rooms, moving the kitchen to the old dining room, the living room to the old kitchen, and so on. Then they rearranged the layout on the second floor to create two bedroom suites — one for Delaey and Andrea and one for the boys. Campbell's plan also added a veranda, with views of a Mexican-tiled patio below and St. George's harbor over the rooftops. After an expedited permit process (aided by the very accommodating Bermudian government), local builder Alan Burland and a crew of skilled craftsmen, adeptly led by project manager Alex DeCouto, swept in to begin the renovation. Fighting persistent winter rains and sometimes working well into the night, they managed to complete the project before the March 12 deadline.

That week the finishes and furniture designated by interior designer Michele Smith arrived amidst last-minute painting, carpentry, and landscaping, but the crew still managed to get everything put away before the party celebrating the end of the project. That took place on a warm sunny day, by the way, and everyone in attendance relaxed and enjoyed themselves as they admired a job well done. Just what you'd expect in a place like Bermuda.