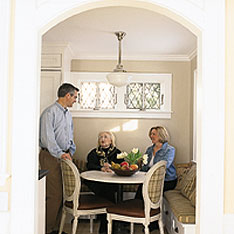 If form indeed follows function, one might be forgiven for joking that Janet Bernard is putting her mother out to pasture. After all, the exterior of the Concord cottage still looks like the backyard barn it once was. But one look inside this completed TV project house and it's clear that Janet and her husband, Jeff, have created a divinely comfortable and efficient home where Jacqueline Buckley can live in warmth, luxury, and close proximity to her family.

This discrepancy between exterior and interior is intentional. The 1894 building was once a functioning barn, complete with a horse stall and a hayloft, and the town of Concord, Massachusetts, would not allow drastic changes to the shell of the historic structure. So architect Holly Cratsley designed a house that essentially keeps the form while switching functions, from livestock storage to a design for life.

That required some gross adjustments: bringing utilities in from the street, lowering the second floor to enlarge the loft space for a bedroom, bolstering the building's light frame with engineered lumber to support a fully equipped home, providing light and air via new windows and doors, and installing a heating and cooling system for year-round comfort.