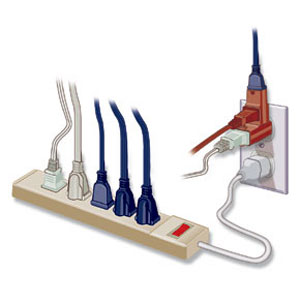 4. Too Few Oulets
What it means: Heavy reliance on extension cords and power strips.

Code violation? No; grandfathered in. (Today's codes require receptacles within 4 feet of a doorway and every 12 feet thereafter.)

Danger level: Minimal, as long as you use heavy-duty extension cords, 14-gauge or thicker. (The thicker the wire, the lower the gauge number.) Undersize extension cords (16-gauge or smaller) can overheat and ignite a fire if loads are too heavy.

Solution: Add more outlets. Expect to pay an electrician about $100 per first-floor outlet and double that for second-floor work. (There will likely be a minimum charge.) This work requires cutting holes in walls and ceilings to snake the wires. Some electricians will patch the holes; others leave the patching to you.