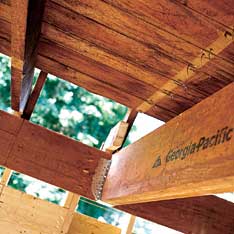 The second floor of the Concord cottage is just what you'd expect an old hayloft to be: snug, wrapped in weather-beaten timbers, full of character — and entirely unsuitable for living quarters. With much of the ceiling sloped at head- bumping height, light trickling in from just one window and loft door, and the only access from a set of rickety stairs, the space could never pass local codes.

And therein lies the problem for the This Old House crew as they convert the former barn behind Janet and Jeff Bernard's house into an in-law cottage for Janet's parents. The town of Concord, Massachusetts, insists that the building must be brought up to code as it's renovated, and there's too much slope in the loft's headroom to meet the requirements. In addition, the code mandates second-floor windows that are large enough, and close enough to the floor, for someone to climb out in case of fire.

Meanwhile, zoning rules in this historic district limit the expansion of the barn to one fifth of its existing volume (not just square footage). That means architect Holly Cratsley can't simply raise the roof to make the second story more livable, because the space added overhead would steal from any other additions she wants to put on the building. But having the bedroom on the second floor is the only option for this tiny building. "It's a deal breaker," says TOH general contractor Tom Silva. "Without it, you've got a one-story house with an attic — and no place to sleep."

The solution to all these problems with light and space? Lower the loft floor (not as hard as it sounds), add two dormers and a skylight, and reconfigure the stairs.