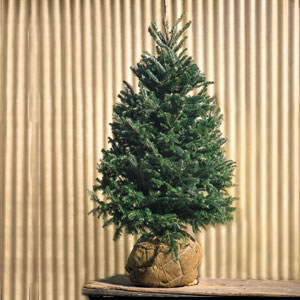 For Vicki Evarts and her family in Concord, Massachusetts, it wouldn't be Christmas without the massive 8-foot, cut Colorado blue spruce standing majestically in the living room, swathed in the popcorn-and-cranberry chains that she and her children string together. But last December, she and her husband, Tom, started another tradition: They put a live, 4-foot Fraser fir in their home's foyer as a secondary decoration, then planted it in their backyard after Christmas. "We placed it right next to the kids' playhouse," says Vicki. The Evartses are following suit again this year, so that eventually, each of their three daughters—ages 7, 10, and 11—will have her own tree to decorate outdoors.
While building memories, the family is establishing an evergreen legacy that will give pleasure for many years to come. Using landscape plants bought at a nursery or tree farm in lieu of a typical cut tree, or, like the Evartses, in addition to one, is a growing yuletide trend. Nationwide, 5 to 7 percent of the 32.4 million trees sold last holiday season were living varieties, estimates the National Christmas Tree Association. And while the idea has been around for more than a decade, live evergreens have become even more popular in recent years, thanks largely to the marketing efforts of growers and home-garden centers. "For a little more money than a cut Christmas tree, you're getting a valuable landscape product," says Steve Mannhard, an Alabama tree farmer whose holiday sales have grown fivefold in the last six years. Of the 1,000 living trees he sells annually at Christmastime, most are Leyland cypresses, which run about $49 wholesale for a 6
½
-foot tree in a container.
The trend originated with environmental advocates seeking an alternative to the cycle of raising, cutting, trucking, and discarding commercially grown trees. And while even live-tree proponents acknowledge that some of the ecological benefits are more perceived than real—cut trees are a crop, and farmers replant what they harvest—as Christmas trees, living varieties offer several advantages. First, they eliminate the sometimes frustrating task of attaching a cut tree to a wobbly stand. Instead, the soil-filled container or burlap-wrapped root ball, set inside a tub or pot, keeps the tree firmly upright. Second, the process of transplanting adds a special dimension to the holiday, especially for kids. Once in the ground, the trees provide year-round benefits: ornamental beauty that's low-maintenance, a natural screen against wind and neighbors, and cover and food for wildlife.