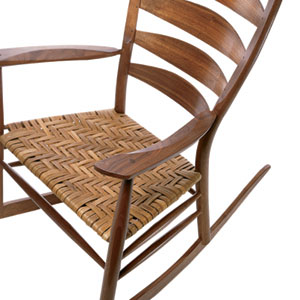 Contrary to myth, Ben Franklin did not invent the rocking chair. He merely was one of the early purchasers in the Colonies 250 years ago.

"Oftentimes, Windsor chairs were altered by shortening the legs a bit and sawing a slot into each foot to receive the rockers," says Leigh Keno, a New York-based dealer and expert in American antiques. Converting a stationary chair was easy and made economic sense, too: In 1828, a New Jersey shop did it for 50 cents, a bargain compared with the $3.50 cost of a rocker built from scratch.

The rocking chair's popularity has hardly waned since Franklin's time. Besides the soothing ride, thought to be good for what ailed you, rockers were ideal for nursing, knitting, sewing, and other seated tasks. At first deemed too plain for the formal parlor — not to mention tough on expensive carpets — early versions went mostly to rural homes and porches (the advent of the platform rocker in the late 1800s solved the carpet problem). Soon, though, designs evolved to embrace the styles of the day. After the Windsor came ladder-back, Shaker, Boston, Victorian, bentwood, and wicker versions. Lavishly decorated and upholstered for comfort, rockers became the seat of choice, courteously offered to guests as well as to Grandma.

Innovations continue today, with rockers made of chrome, molded plastic, even laminated cardboard. In his workshop in Berea, Kentucky, Brian Boggs puts a contemporary spin on the traditional form, turning out graceful ladder-back and woven-back designs in walnut, cherry, maple, oak, and hickory. "A lot has to be done right to make a rocker that lasts, but only one thing done poorly can make it fail," says the 43-year-old woodworker.