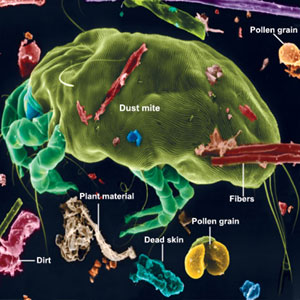 When it comes to air pollution, there's no place like home. Today's tighter houses keep the weather outside, but they also keep contaminants inside. According to the Environmental Protection Agency, the air indoors where we spend as much as 90 percent of our time can be more polluted than even city smog. And dirt you can see is just the beginning. That dust collecting on end tables and bookshelves is only a fraction of what's actually swimming around in the air: an invisible mix of dust mites, pollen, dander, mold, and smoke that can be annoying to breathe and hazardous to your health.



The first line of defense against airborne contaminants is to keep a house clean and well ventilated. But for some sensitive people that may not be enough. That's where air filters come in. Household air filters are available in two basic types: media filters, which create a physical barrier that traps minute particles, and electronic filters, which use a high-voltage charge to attract and capture contaminants. A few air filters are hybrids that combine both methods, and some include activated carbon elements to combat odor.

Typically, air filters are either built into the heating and cooling system (whole-house filters) or are freestanding units that can be placed in individual rooms (portable filters with self-contained fans).