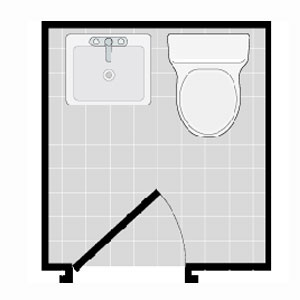 Per square foot, a bathroom has more equipment than any other room in the house. It's pricey acreage, and every inch counts. At the same time, bathrooms today are being asked to do more: accommodate more people, give them more privacy, provide generous storage, and fit luxury amenities such as steam showers and whirlpools. Squeezing it all in is no easy task. "It's like piecing together a puzzle," says This Old House plumbing and heating expert Richard Trethewey. "Sometimes you have to draw it a hundred times to get everything to fit."

But whether the puzzle is a compact powder room, a kid-friendly family bath, or a spa-style master retreat, the approach to solving it always starts the same way. First, consider who will be using the space. Next, think about the number and style of fixtures you'd like to accommodate. And finally, work out where those fixtures can be placed.

While there's usually more than one solution to any bath design challenge, here are some basic strategies for planning a bathroom that works.