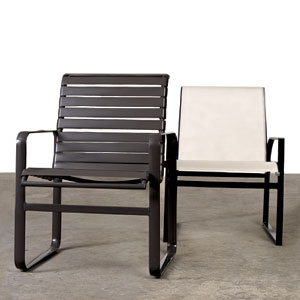 Left outdoors in rain and shine, metal deck and patio furniture takes a beating. Frames accumulate unsightly nicks, scratches, and rust; vinyl straps discolor and loosen; mesh slings rip; fasteners pop out.

But that doesn't mean you have to toss the old set and buy new. For a fraction of the cost of replacement, you can tackle basic repairs yourself. "This is something homeowners can definitely do," says Steven Gentino, owner of The Chair Care Co., an outdoor-furniture refinisher in New Haven, Connecticut. "It takes a little muscle and a couple of hours, tops." Gentino's company is one of many nationwide that can supply the necessary materials, fasteners, and even the touch-up paint; look for "outdoor furniture care" on the Web, or contact the chair manufacturer for a list of authorized repair services. "All you need to do is a little measuring," Gentino says. "We'll cut everything to order."

On the following pages, Gentino shows how to revive two types of painted aluminum chairs; one with a vinyl-strap back and seat, the other with a one-piece mesh sling.