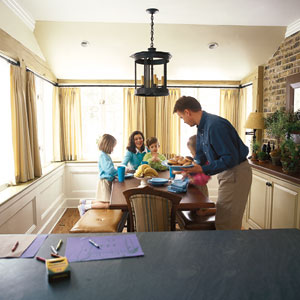 Everything changed the morning Today show viewers chose Heidi and Mike Smith to work with This Old House to make their Dream Kitchen a reality. (Who could resist their video showing triplets Kate, Belle, and Michael tumbling off the school bus with matching backpacks, not to mention their tiny kitchen?) For the Smiths, it meant a full-scale invasion of contractors and TV crews at their Lake Forest, Illinois, home to execute and document the renovation. For the folks at the couple's chosen architectural firm, Lake Forest Landmark Development — particularly designer/builder Kristine Boyaris and architect John Krasnodebski — it meant moving directly into the crosshairs of a national television show packing a deadline from hell. And for Landmark project manager Jim Eimerman, it meant taking to heart one simple instruction: "Go!"



Working at Full Throttle

Eimerman was charged with tearing out the poorly designed kitchen, breaking through an entryway, relocating a powder room, and clearing the way into an empty greenhouse, then turning the cramped space into a spacious family center. Oh, and he had to have it all finished in three months. Key to the highly compressed 12-week undertaking was specifying, ordering, and receiving the full complement of items that went into the Smiths' Dream Kitchen. Even with TOH behind him, Eimerman faced crushing turnaround times for custom items like windows and cabinets. Before anything could be ordered, exact dimensions had to be finalized, practically in the midst of demolition. The pressure on Eimerman was immense. "In retrospect," he says, "it was a little like what I've been told childbirth is like. The outcome is so wonderful, you forget the incredible pain."

This was a full gut job, and Eimerman quickly ran into structural issues. Too much weight from a staircase and wall on the second floor was causing a major dip in the kitchen floor, which the crew corrected by putting a lally-column-and-steel-beam assembly in the basement. Since the walls were open for new rough electrical and plumbing work, it made sense to insulate. This Old House suggested polyurethane foam, which when sprayed on expands 100-fold, to quickly fill the irregular spaces in the old wood-frame-and-brick-veneer wall. It would provide an effective layer of insulation against the cold concrete knee walls of the former greenhouse, now serving as the new breakfast area.

Thereafter, Eimerman tightly choreographed a succession of wallboarders, radiant-heat installers, floor layers, trim carpenters, counter fabricators, and painters. Meanwhile, TOH master carpenter Norm Abram commandeered the garage to build a new frame for the breakfast area, crafted from heavy timbers meant to mimic the original frame on the entryway of the 1928 Tudor Revival house.

Employing templates made from the house's original timbers, he used a router, an inline jigsaw, and a good old-fashioned wood rasp and spokeshave to carve graceful chamfers and notches into the specially ordered 8-by-8-inch Douglas fir pieces. Once the mortises and tenons were complete, it was time for a memorable five-man "timber-raising" that put the posts and beams into place atop the concrete perimeter wall of the breakfast room. Next, Eimerman worked with his small crew to install new divided-light, insulated-glass windows to complete the period look. Within a matter of weeks, they rushed to install painted maple cabinets, a vent hood concealed behind decorative wood paneling, state-of-the-art appliances, a gorgeous stone countertop, two sinks, and the accompanying plumbing fixtures.

While this whirlwind swirled nearby, Heidi and Mike did their best to provide the family with some calm. Sealed off from the construction area and working out of a temporary kitchen cobbled together in their sunroom, they lived a surprisingly normal — and dust-free — life just inches from the hammering. "The most important thing I did was to learn to say no," says Heidi. "I tend to keep our schedules pretty full, but I realized early on that there was plenty of stimulus for us all, especially the kids, right here at home." Not that Heidi was relaxing. Demands for decisions — about everything from cabinet doors to drapery fabric — didn't stop until the final day of shooting.