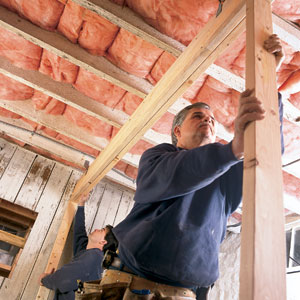 Whenever anyone walked across the kitchen floor in the home where This Old House general contractor Tom Silva grew up, teacups trembled in their saucers and pots and pans rattled on the stove. "It was nerve-racking," Tom recalls. Eventually his father, a carpenter, went down to the basement with Tom in tow and reinforced the undersized floor joists.

Tom's house was built in 1765, but bouncy floors aren't just an old-house problem. Even structurally sound, code-compliant new floors can deflect, or flex, more than feels comfortable. There are a variety of ways to stiffen a floor; the method (or methods) Tom chooses depend as much on practicality as on effectiveness. For example, sistering with new lumber — the fix Tom's dad used — makes sense only if the joist bays are not cluttered with electrical cable, plumbing lines, and ducts.

Tom's solutions, shown here in order of effectiveness, are easiest on the first floor, where joists are accessible from the basement or crawl space. Stiffening upper floors typically requires removing some or all of the finished ceiling below. Remembering his boyhood kitchen, Tom makes sure that any new floor he builds is rock-solid.