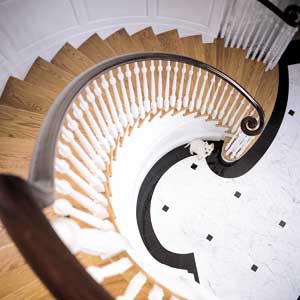 It can take a stairbuilder several weeks to complete a custom staircase, which is not terribly convenient for homeowners without alternate access to the second story. Fortunately, stairbuilders these days are less likely to spend a month in your front hall than to take painstaking measurements, then arrive several weeks later with a finished stair.

"We prefer to build in the shop," says Bart Withstandley, president of Harmonson Stairs of Mount Laurel, New Jersey, whose custom work runs the gamut from straight-flight pine basement steps to sophisticated elliptical stairs. "There are some cases where that's impractical and we have to build in the field. But for most stairs, building in the shop is more efficient and more economical."

It's also more pleasant for customers, who find time without stairs to be inconvenient, to say the least. Withstandley says his installation crew typically demolishes the old stair and props the new one in place — minus the balustrades — in a single morning. Installing balusters and railings usually takes another couple of days. "Timing isn't usually a problem," Withstandley says, "as long as you haven't ripped out the old stair before you call us."

Part of the price of this convenience is the impeccable measurements that building in the shop requires. Harmonson will quote a price based on drawings supplied by a customer, but he won't build from them. The working drawings used to build a stair reflect the company's own scrupulous sizing of the site. "We measure a house for a stair the way a tailor would measure you for a fine suit," Withstandley says.

Like a tailor-made suit, a custom stair is pricier than its off-the-rack counterparts. For building and installing an L-shaped staircase with a landing, Harmonson charges about $2,500 to $4,000, depending on the materials and detailing. More complex projects — such as sweeping circular stairs or elliptical stairs — can cost $10,000 and up.