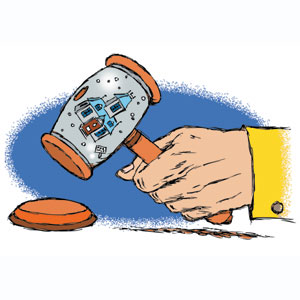 You'd have to be a little bit obsessed to camp out overnight to be first in line for something. Groupies do it for concert tickets, diehard sports fans do it for playoff seats. But who in the world would do it for a new house?

Believe or not, lots of people. The housing market is so hot in some areas that prospective buyers have been known to line up for hours for the chance to buy into a new development. Others take their chances in a builder's lottery, hoping to "win" the chance to buy. The frenzy makes it difficult for a builder to price a new home without wondering if it could have fetched a higher figure, and the tight supply makes it hard for some prospects to be in the right place at the right time to buy.

There is a solution, and — its being the twenty-first century and all — it's on the Internet.

Auctioneers have long known that the best way to establish market value is to let the people who want something tell you how much they're willing to pay for it. That solves the builder's pricing problem, but it doesn't help a buyer whose schedule or location makes attending an auction impossible. The Internet allows a seller to run an auction 24 hours a day, 7 days a week, letting all prospects make bids on their own schedule.

"An online sales event is terrific for high-demand properties, where you have buyers lined up at your door," says Richard Jackson, co-founder and EVP of the online auctioneer iBidCo.com. "People taking vacation time to camp out before an on-sale date is not a great way to start a relationship with a customer. An online event in lieu of a lottery or a camp-out levels the playing field for the consumer and keeps the builder from leaving money on the table."

An auction is a fast and efficient way to sell, and the competitive nature of the bidding creates a sense that the selling price was a true market value. That's one reason why real estate auctions are often associated with foreclosures (and indeed many properties sold at auction are distressed in some way). But there are other markets where values are best set by the people who want to buy, sometimes desperately. It can be difficult to establish market value on new construction, time shares, celebrity homes, unique or unusual properties, and vacant land. Online bidding combines the pure pricing of a traditional auction with the 24/7 access and virtually limitless marketing reach of the Internet.

Live auctions may not be in any danger of being displaced by their online counterparts quite yet. There's nothing quite like the competitive thrill that comes with a fast-talking auctioneer's voice urging you on to higher and higher bids. (In fact, auction houses count on that thrill to get prices up.) But the electronic revolution is spreading, and auction Web sites now include plenty of real estate, from empty lots in New Mexico to new residential developments in Florida and every kind of property in between. Some auctions are held exclusively online, others are conducted as a combination of online and real-life events. Still others are not held online at all, but can found using powerful online tools.

It's not for everyone, of course, and as with any Internet undertaking real estate auctions require a good bit of research and a fair amount of caution. Understanding the different ways you can use the Internet to find the right auction, and the right property, is the first step.