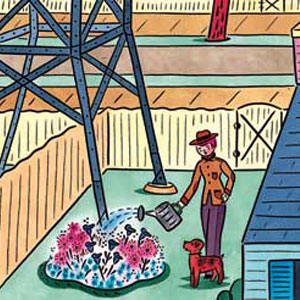 Larry LaSov's troubles began three years ago when he bought his dream home in Glyndon, Maryland, 20 miles north of Baltimore. While there were any number of reasons to purchase the four-bedroom Colonial on 11/3 acres, it was an unlikely one that most attracted LaSov: His real estate agent told him about an existing property use agreement — known as an easement — that let the state maintain a 1/3-acre stand of century-old dogwoods, maples, and oaks separating LaSov's lawn from his neighbor's. "We were thrilled when they said we couldn't touch them," LaSov says. "That meant no one else could either."

The 49-year-old CPA's enthusiasm dimmed considerably, though, a few months after he moved in, when a truck arrived carrying about 250 saplings to be planted next to the existing stand of trees, creeping further onto his lawn area. That's when LaSov found out that the state's right to his property went well beyond just the existing trees. It also included an additional 30 percent of his lot. "The easement comes to within 35 feet of my house," LaSov says.

Since then, LaSov has spent thousands of dollars and countless hours in legal wrangling trying to reclaim more of his lot, with no success. Meanwhile, as the trees multiply and the lawn area diminishes, the value of his house has dipped by at least 10 percent. "If only I'd known," LaSov laments, "I would never have bought the house."