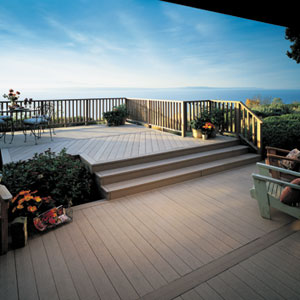 For all the lounging done on them, wood decks require a lot of work to maintain. They have to be cleaned frequently. When paint or stain fades and chalks because of the weather, they need to be recoated. Eventually, as sun and rain cause the wood to crack, splinter, and rot, boards will have to be torn up and replaced. To keep a wood deck looking its best takes time and money.

Building with nonwood decking can change that. This durable and low-maintenance alternative to wood will never split or rot and requires no paint or finish. Made from either recycled milk jugs and grocery bags or new plastics like vinyl, it accounts for 10 percent of the $3 billion-plus spent each year on residential deck boards and railings. Colors are mixed into the material, from white to dark to faux wood grain. Textures range from smooth to rough. Some types are solid and heavy, while others are hollow and lighter weight. And because much of this decking can be cut, shaped, and fastened almost like wood (some use simple clips), building with it is just as easy. Prices are competitive with those for cedar or redwood, but expect to pay 15 to 20 percent more than for pressure-treated pine.

Homeowners interested in nonwood planking will find two main types to choose from: all-plastic and composite. All-plastic lumber consists of plastic plus additives such as ultraviolet inhibitors (to provide protection against the sun) and color pigments. Composite boards are made by mixing plastic with sawdust or other natural fibers. Both products have their pros and cons.