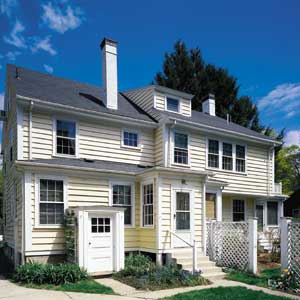 The front facade of Bruce Leasure and Kim Whittemore's 1922 house in Winchester, Massachusetts, the 2002 This Old House TV project, was, at first glance, a study in Colonial Revival symmetry: The front door was centered and the windows line up, all under straight-corniced eaves. Walk around the back, however, and you'd see a hodgepodge of architectural elements. There was a variety of window sizes, an odd shed dormer, three doorways all at different elevations, and a weird overhang on half of the building. "The first thing Bruce and I thought was that the back of the house was a series of incongruous additions," said Kim. "We wanted to find out what was original to the house and what had been added on over the years."

Part of the allure of an old house was knowing its history, and tracking a building's changes over time can enhance the mystique. Beneath coats of paint, layers of drywall, and fields of wall-to-wall carpeting were clues to a house's past. With a little detective work, some keen observation, and a trip to the local town offices, you can get an idea of how your house got to its present incarnation.

The Winchester house was full of architectural inconsistencies, which TOH general contractor Tom Silva thought meant the place had changed often. "Houses of this period were usually built as just a big box, with a plain gable roof and maybe a small ell off the back," he explained. What immediately caught his eye was a change in the roofline — one-half of the back roof's pitch got shallower over a peculiar 2-foot-wide cantilever — that didn't fit the original style. Other oddities included a covered basement entrance to the left of the backdoor and an enclosed, windowed area — a kind of room to nowhere — on the right. "I was certain when we looked around we'd find an answer," said Tom.

For a house built in the 20th century, the town records office can yield a lot of information. Kim followed her house's paper trail to find out when things had changed, poring over tax, census, and deed listings. But the building department, which keeps copies of permits back to the 1920s, had only a few for renovations. "I was hoping to find one for adding that funny room on the back or changing the roof pitch," she said, "but I turned up zilch."