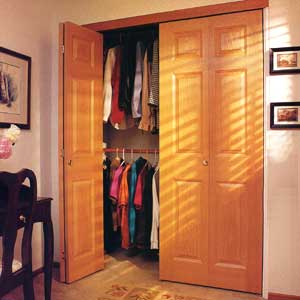 Closet remodeling typically focuses on adding shelving, a second clothes rod, storage drawers, shoe racks and other interior improvements. By taking it one step further — replacing existing closet doors — you can make the closet space more functional and improve the look of the entire room.

The remodeled closet shown here started out like the thousands that still exist in homes built between the mid-1950s and '70s. Its original flush-panel, sliding bypass doors had about as much style and elegance as a velvet painting of dogs playing poker. They also were inconvenient: Only half the closet was accessible from the outside at a time.

Full-Access Upgrade
We replaced these sliding doors with two pairs of bifold doors that look great when closed — and collapse back out of the way when fully opened so the entire closet is accessible. In this case, we chose CraftMaster Natural raised-panel doors because they feature lightweight hollow-core construction and are affordable. The 21/2-ft.-wide bifolds cost about $45 to $50 per pair. The ones shown come prefinished in a light-oak stain. Other widths ranging from 1 1/2 ft. to 6 ft. are also available, as is a darker finish.

This particular type of bifold is known as a molded door. Its raised-panel face is formed out of a single sheet of Masonite to help eliminate excessive cracking, swelling, shrinking and other solid-wood drawbacks. Like most bifolds, it comes with all the necessary hinges and mounting hardware. We improved things here, too, by replacing the standard hardware with 1700 Series Folding Door Hardware from L.E. Johnson Products ($20). It's much stronger and more ruggedly built.

Placing Your Opening
To determine which size doors to order, measure the width of the closet opening, then — and this is very important — subtract 7/8 in. to create clearance space between the doors. Divide by two to come up with the width of each bifold pair. Because closet doors come in set increments, you will order doors that are either slightly too wide and plane them down to fit or a bit too narrow and then reduce the closet opening.

Whether you order too-narrow or too-wide doors, be prepared to do a little fine-tuning; it's unlikely you'll find doors that exactly fit your closet.