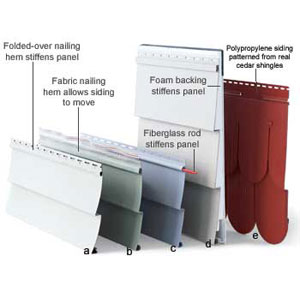 Re-siding with Vinyl
Much of what appeals to us about older historic houses, apart from their architectural style, is the graceful moldings, well-proportioned trim, subtle shadow lines, even the slight irregularities in the spacing of the siding — testaments to the skills of this country's housewrights. But in countless slipshod re-siding jobs, where vinyl is slapped up over the existing shingles or clapboards, these details have been obliterated, making the facades of handsome gingerbread houses as plain as sheet cakes. "I've seen a lot of cases where they've sawed off moldings, window trim, cornices, even knocked them off with hammers," says Tom. "It looks worse than terrible. And it takes away what makes old houses special."
For those contemplating having a house re-sided, Tom recommends finding a contractor who specializes in old-house work, not just in vinyl siding, and insisting that all the architectural details remain in place. "Run J-channel around them and butt the siding into it," he says. "Of course, it takes more time and money to do it this way." A proper paint job may make more sense, if that's the case. Sometimes, re-siding jobs are sold as a way to "tighten up" the house and reduce energy bills. The installers simply nail up a layer of foil-faced foam before the vinyl goes up. Tom doesn't think much of this practice. "The foam panels are only 3/8 inch thick; they don't add much R-value," he says. "You'd be better off packing the walls with blow-in cellulose." The final word: If you have any doubts about its effects, don't put vinyl siding on your old house.
Where to Find It
Siding used in installation:
Portsmouth Shake
Crane Performance Siding
Columbus, OH
800-366-8472
www.cranesiding.com
a. CertainTeed Monogram Studfinder (Light Maple)
CertainTeed Corp.
Valley Forge, PA
800-782-8777
www.certain teed.com
Installer:
Hansen Home Designs, Inc.
Massapequa Park, NY
516-541-2618
Our thanks to:
Tony Golfo
Golfo Development Corp.
Calverton, NY
631-727-2299