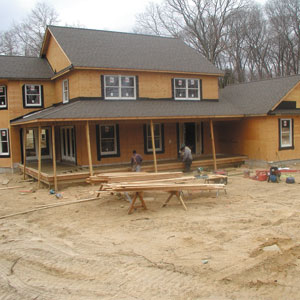 While wood siding is fastened tightly to the house, vinyl siding literally hangs from nails driven through horizontal slots at the top of a panel's nailing hem. The reason for the loose nailing has to do with the vinyl's (and polypropylene's) need to expand or contract as the temperature changes: A 12-foot length of plastic siding can expand as much as 5/8 inch with seasonal temperature swings. If nailed tight to a wall, it can buckle on hot days.

"The worst thing you can do is nail vinyl tight," says Tom Silva. To ensure that the panel is free to move, the nailheads shouldn't contact the hem, but should be left about 1/32 inch proud. Conversely, if nailed too loosely the panels will rattle noisily whenever the wind blows.

Vinyl's tendency to move means that panels can't be butted tight to trim, either. Quality-conscious installers leave about 1/4 inch of clearance (3/8 inch in temperatures below 40°F) at the end of panel courses; at corners and door and window openings a trim piece called J-channel covers and conceals the resulting gap. Other proprietary trim pieces, made by manufacturers to fit their own brand of siding, include soffits, rake boards, and crown moldings. All help to improve the appearance of an installation, giving it a more custom look.

In addition to J-channels, one characteristic that distinguishes vinyl from other siding is its overlaps. While lengths of wood (or cement) siding meet in an unobtrusive butt, vinyl panels must be overlapped by about 1 inch wherever they meet, resulting in telltale vertical lines. The thicker the vinyl, the more obvious the overlap. Compounding the problem, most vinyl siding panels are molded to represent double or even triple widths of clapboards. This slashes installation time dramatically, but it also makes panel overlaps even more visible. A good installer will orient overlaps away from dominant views, for example, by running the siding from a back corner to a front corner. On the front of the house, panels should be installed so seams are least visible to someone approaching the front door.

Contrary to what many people expect, vinyl is actually less likely than wood to trap moisture, Tom says. "There are tiny weep holes in the butts of the panels. And because it's hung loosely, air can move behind it." Just make sure your siding contractor first installs flashing and either housewrap or builder's felt, just as he would under wood siding.

Every quality vinyl siding job starts with the contractor. Dont hesitate to ask potential installers for their certifications — most of the large manufacturers certify installers in proper installation techniques — and for the names of satisfied customers. Also check complaint lists established with local and state business associations, as well as with state contractor licensing boards.