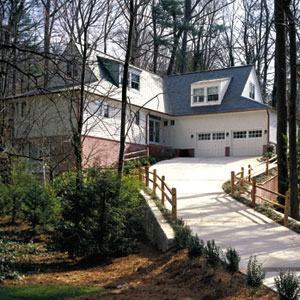 When landscape project manager Anne Wilfer first set foot on the steep, wooded Atlanta lot of This Old House magazine's Timeless Home one rainy Sunday in October of 2001, as the house was nearing completion, she quickly got an idea of how challenging the job ahead of her would be.

"The place was a narrow mud slide," she says. "Besides the fact that the land dipped into a streambed along one side of the property, there wasn't anything behind the house to keep an embankment from eventually sliding into the dining room."

Immediately she knew the property would require several retaining walls, as well as hearty native plantings with substantial root systems to anchor the soil. Getting from one side of the house to the other would require stone steps built into the hillside, as well as steps added to the basement-level deck. "Basically, we were hired to landscape a big hill," says Wilfer.

But because Atlanta sits in the foothills of the Appalachian Mountains, steep lots are nothing new for Wilfer and the Gainesville, Georgia, group she represents, The Jaeger Company. Many people are rejecting the long commutes and excessive traffic that come with a house in the flatter suburbs and choosing smaller, hillier properties in the older downtown neighborhoods.

But the convenience of proximity comes at a price: "Anytime you landscape a sloped lot, it's going to cost more," says This Old House landscape contractor Roger Cook. "Moving earth means renting equipment, and in terms of cost per square foot, building walls is one of the most expensive things you can do." At the Timeless Home (a joint project of TOH and the Masco Corporation), where Wilfer worked with crews to install three retaining walls, a stone pathway around the house, upper and lower decks, granite steps on one side of the house, and native, low-maintenance plantings with a drip irrigation system, the cost was roughly $70,000.