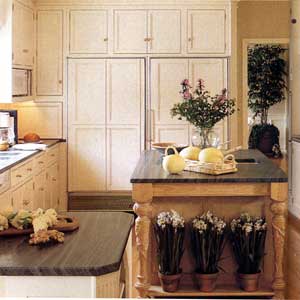 No man is an island—or so it is said—but most people want one in their kitchen. Fully 80 percent of home buyers consider a kitchen island desirable or essential, according to a National Association of Home Builders survey. Islands not only provide storage and work space but they can also make a strong visual focal point as you'll see from this range of configurations beyond the basic box in the center of the room.

The key to an island that meets your needs is understanding how the many designs you can choose from work with the realities of your kitchen. Here we present advice from top kitchen designers, along with six custom islands that lay out a few of the possibilities. We'll also look at a fully equipped island you can order through an architect or designer, as well as how to deal with venting an island sink or cooktop.

Most of the islands featured were designed and built as part of a whole-kitchen remodel. For $600, you can get a serviceable but bare-bones island, built from stock kitchen cabinetry and topped with laminate. Although that price can easily climb into the thousands with a sink or cooktop, you can keep the project within reach by sticking with affordable materials and narrowing your wish list to the features you want most.

Where to Put It
The middle of the kitchen is the traditional spot for an island. A central island anchors the room and organizes the work flow while providing accessible counter space from all directions. It's also your only option in an enclosed kitchen, because the center is the only place where an island won't block work centers and interfere with traffic.

A perimeter island is better for an open or semiopen floor plan, in which it can connect spaces as well as separate them. In open or semiopen kitchens—particularly those without windows—people tend to stand at the island facing the adjoining area. That's especially true if a sink or cooktop is installed on the island and oriented to the "public" side of the space.

The social aspect of an island layout can be as crucial as its practical side, says Krikor Halajian, a kitchen designer in San Rafael, California. "An efficient, properly located island helps keep stress levels down by giving everyone who uses the kitchen—cooks and guests—their own space." Getting an accurate perspective on how you use the space and how the room works functionally and socially can be a challenge.