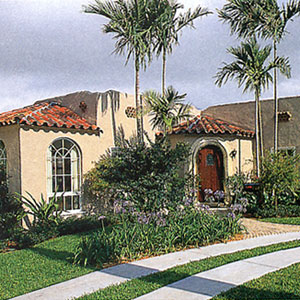 As with the eye itself, an interior designer's vision is complex. Each situation, each room, holds its own nuances that invariably call for a slightly different approach. Any attempt to distill how it all works down to just a few words usually vastly oversimplifies the matter. Nevertheless, in the interest of generalization, it could be said that Rob Thompson's taste tends to gravitate toward styles and materials that are fresh, clean, simple and of high quality.

As an interior designer by profession, Rob had a vision for the Mediterranean Revival-style house he purchased in West Palm Beach from the first moment he laid eyes on it. To be sure, getting the opportunity to team up with This Old House to perform the renovation afforded him the chance to expand his plans significantly, but his own vision came first.

Immersed in the world of design — albeit largely on behalf of his clients — but ever on the lookout for inspiration of his own, Rob always had his eye on this particular house. He says the place had pretty much instant "curb appeal" from its street in Flamingo Park, a nice but "transitional" neighborhood, which brought the added allure of reasonable property values. "It looked like it had been neglected and needed some work," Rob remembers, "and I thought, great, it's now time for me to do a house for myself. So I bought the place."

From a designer's point of view, it would seem that potential is everything. In a way, a perfectly designed house in pristine condition presents no fun at all. Nor, of course, does a run-down old shack that was conceived without imagination to begin with. What's wanted is a building that's got a certain spirit to it and yet stands in need of some loving attention and a creative vision.

And potential Rob's place definitely had. Apart from structural inadequacies that needed simple (or not so simple) fixing, the house had many qualities that seemed to be just teetering on the edge of attractiveness — things Rob found himself itching to improve. From the street, for instance, the arched front windows in what used to be a screened-in porch had a certain appeal. As Rob puts it, "they were pretty but in lousy shape, just jury-rigged casement windows. Someone had put arched pieces of glass over the tops of them and put some sticks in as mullions." Not significantly altered, but smartened up with new terracotta tiling and proper arched windows, Rob's sunroom is now a lovely hideaway at the front of the house.

Another of the initial realizations Rob had about the two-bedroom, one-bathroom house he'd acquired was that he really wanted it to have two baths. To make the existing bathroom into a friendlier powder room for visitors, Rob planned to perform a fairly straightforward redo, installing a new pedestal sink, toilet and tub, as well as sleek white "subway" tiles on the walls and simple penny tile for the floors. One down.

The fulfillment of his hopes for a second, master bathroom came about in a perfect example of the intricate interconnectedness of home renovation. It was tied to Rob's plans for a greatly expanded kitchen.

By reclaiming the area previously occupied by the back porch and carrying in the same oak floors, he enlarged the cramped and dated kitchen to a wonderful open-ceiling space that includes a breakfast nook — complete with the cool accents of an antique pine table and French bistro chairs. With steel appliances, the kitchen now has a slick, commercial gourmet feel. The lower cabinetry is in a simple white design with plain, stainless-steel hardware, while the upper cabinets have all-glass fronts to add yet another sensation of depth to the area. A remote-controlled skylight will add a pleasant breeze and pair with the new French doors to help compensate for the small number of windows in that part of the house and as luck would have it, this extended structure at the back did Rob an additional favor. It supplied the needed space adjacent to Rob's bedroom for building a master bath, which he's decided to finish in unadorned but elegant honed marble.

In the living room, there had been several crate bookcases surrounding the fireplace. Rob felt they didn't add anything to the space, so he got rid of them, preferring an enhanced sense of the room's full size to the storage space the shelves may have offered. The fireplace itself, refurbished with dazzling Moroccan tile work, will serve as a colorful focal point. And like all the house's interior walls, the living room has been painted white, creating a fresh backdrop for Rob's favorite artwork and furnishings — including a new zebra rug he's expecting any day.

Collaborating with This Old House, Rob has been determined to navigate the many snares of major home renovation in order to mold and shape his new home to the vision he had for it. From the palm trees that now strikingly frame the front entrance, to the wonderfully landscaped grounds and pool in the back — as well as the rejuvenated house in between — Rob has every reason to be pleased with what he sees.