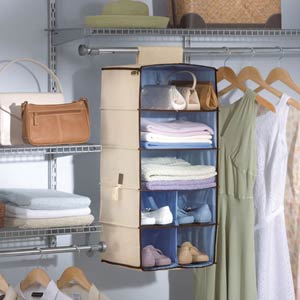 Putting It In
Closet systems are either attached to the wall or the floor. ClosetMaid's Shelftrack system consists of an aluminum track attached to the wall. Vertical supports and shelving hang from the track, making it easy to change the configuration when needed.

Follow the manufacturer's directions for attaching systems to the wall, especially when securing shelves to drywall between the studs. A tip from the pros: Before installing, paint the closet walls and ceiling. Painting won't take long, and it will make the finished project much more attractive.

Although closet systems are an easy do-it-yourself project, professionals bring qualifications you probably lack. For instance, pros have experience designing small spaces and access to materials you might have trouble finding. They also have teams of installers who can have a custom system in place in one day for most closets, including walk-ins.

Most of these companies work the same way: A designer comes to your house and does an inventory of everything you want to store in the closet. The designer also helps you weed out items that should be stored elsewhere. "I've had clients in their fifties who still had their bar mitzvah tie or first communion suit hanging with the clothes they wear everyday," says Vicki DiMedio, president of Closet Design Group, in Boca Raton, Florida.

There are a number of scenarios where it probably makes sense to hire a pro. Lack of time to do the job yourself tops the list. Although you'll still be involved, a pro will take charge and ensure the project is completed.

Or, call in an expert if you can't decide what to toss. Having an outsider go through your belongings and ask how you use them might seem odd, but it will help whittle away the excess.

Finally, don't do the work yourself if you think of closet storage as furniture. Storage systems can do much more than just organize and protect your belongings — they can display them. Involving a pro also makes sense if you invest in high-priced materials. You'll get the most use out of the space, and installation will be neat.