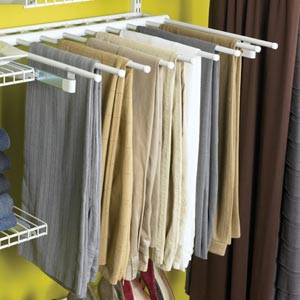 Customizing the Plan
All closet systems essentially are custom projects, because individual storage needs differ. But there are some elements that all closets have in common.

Hanging Items
Because short hanging items, such as shirts, blouses and pants folded over hangers, measure only 30 to 40 inches long, a typical closet can include two levels of hanging rods. As a rule, place the top rod 80 to 82 inches up from the floor, the bottom rod about 40 inches up. You should adjust the measurements to suit your clothing. For example, keep suits on the top rod, pants and shirts on the bottom. In a two-person closet, assign the top rod to the taller individual's clothes.

Long dresses and coats require as much as 50 to 60 inches of hanging space. But even here, you can place a shoe rack or low shelf under the hanging garments.

The same general rules apply to kids' closets. For young children who don't have a lot of hanging items, plan for one rod at 36 to 40 inches off the floor. That allows youngsters to reach the clothes and encourages them to put things away.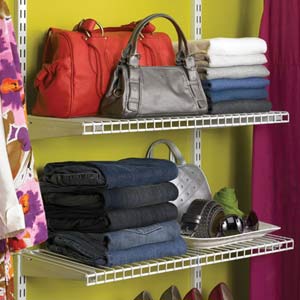 Shelf Items
The growing use of shelving is one reason modern closet systems have become so popular. Shelves 12 to 16 inches deep provide adequate space for sweaters, shorts, and casual shirts. They also keep items neat and in plain view so there's no need to rummage through drawers or piles of clothing.

Shelves for clothing work best close together. For neatness, plan on stacking bulky items like sweaters two to four high. T-shirts and other thinner items can be stacked three to five high. And place shelves for the most frequently used items at a height between your waist and shoulders so you can reach them without stretching or bending. Put shelves for other items lower or higher.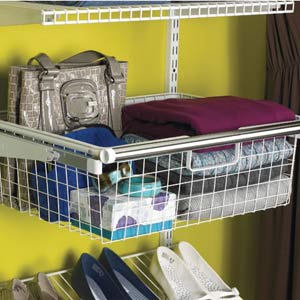 Accessories
Tie, belt, and shoe racks and corner shelves are a few of the conveniences you can add to your closet design. Two of the most popular are drawers and baskets. Drawers help make the storage system work like furniture by allowing you to put socks and underwear, for example, in the closet. Drawers also offer protection for stored items, and a column of them can divide a shared closet in two.

Think of wire baskets as casual drawers. They'll hold anything you don't mind having on view. They can also work either as a hamper or a spot for toys in a kid's closet.

When assigning space for clothes, include extra shelf and hanging space in your plan. Then keep the closet organized by removing items you no longer use. The planners at California Closets, a national franchise of professional closet designers based in San Francisco, recommend removing an old item when you buy something new and tossing anything you haven't worn in a year.

Use every available inch of space when developing your closet design. The back of the door can be used for shoes (as shown) or to keep belts, ties and scarves organized and handy. Keeping items off the floor makes cleaning easier.