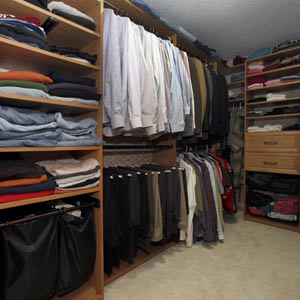 Sorting It All Out
If you're installing a closet system yourself, start by examining everything you want to store in the space. Limit items to what you use frequently, and plan on storing others elsewhere. Ask yourself the following: Do I wear suits to work? Which do I wear on a regular basis? What do I do with winter clothes during the summer?

Go through your day, including weekends, to determine which clothes (leisure wear, sports clothes, shoes, boots and accessories, such as ties and belts) you wear regularly.

Group like items together and measure them. You'll need to determine height and width requirements for hanging items. Place folded items either on shelves or in drawers.

What kind of clothing you have and how much will help determine your storage plan. Before putting pencil to paper, stop by the home center or retail outlet where you plan to shop. You'll probably come across products you've never heard of and get ideas for your own plan. You might also see sample closet plans or manufacturers' brochures or product sheets. Use both of these sources as a starting point for your own design.