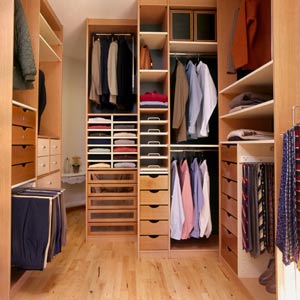 Closet Systems
A typical closet system consists of wardrobe rods for hanging, shelves and storage accessories. You'll find two broad categories: plastic-coated wire and solid shelving, which is made of particleboard covered with a laminate or solid wood. Wire is less expensive than solid shelving.

Wire-coated shelves also offer more options. Both ClosetMaid and Configurations by Rubbermaid produce shelving with or without a built-in wardrobe rod. Both also offer a variety of sizes for the openings in the wire mesh. Narrow openings are best where small items are stored, such as in pantries and linen closets. But you can use any size you want for storing clothing.

Systems available at retail stores contain dozens of parts that are all sold separately. For example, along with shelves, you'll need the wall brackets, end brackets and support brackets that hold the shelves in place. Solid shelves also need tracks that attach to the wall to hold the shelf supports — unless they're part of a cabinetlike system that includes sides and a top. Drawers and baskets require runners.