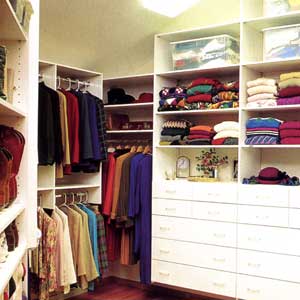 You've probably complained more than a few times that you don't have enough closet space in your house. But the fact is, most homes aren't closet poor — they simply have poorly organized closets.

The typical clothes closet, for example, includes a single pole for hanging items and an overhead shelf — hardly an efficient use of space. But there are some ways to make better use of the space you have.

"With a little planning and sorting, you can stretch the storage space in a typical closet by as much as 60 percent," says Pam Smith, director of product management for ClosetMaid, a leading manufacturer of do-it-yourself- storage systems in Ocala, Florida. As a result, everything you put in your closets will be neatly organized and easier to find when you need it.

Practically any closet, including those in your basement or under the stairs, can be improved. First, you have to decide what you want to store in the closet, develop a design to accommodate those items and then put in the components you'll need. Or, have a professional create the design and install the system for you. We'll concentrate on the clothes closets most of us use every day.