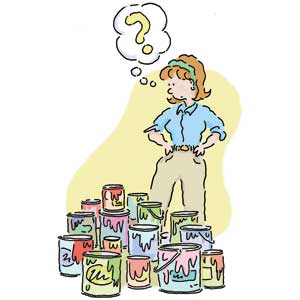 If your basement or garage is overflowing with cans of leftover paint, the National Paint and Coatings Association has a suggestion: Hold a neighborhood or community paint exchange. Everyone brings their usable leftover paint to one place. After the paint is sorted, it is given away on the spot to other people who can use it. Of course, not all paint is created equal. If you decide to organize an exchange, keep the following in mind:
Only accept latex and solvent-based paints if they are in their original containers, with intact labels.
Do not take paint that has been frozen or contaminated.
Make sure gallon containers are at least one-third full—that's just good manners.
Try to schedule the event on the same day your local waste-management agency is running a hazardous-waste collection. That way, the unusable and unclaimed paint can be taken away on the spot for safe disposal. You can get guidelines for such an event at
www.paint.org
.