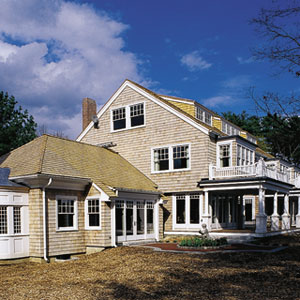 Having enjoyed my few minutes of
This Old House
fame and a chance to contribute to the improvement of the acoustics in the McCues' wonderful Manchester home, I now have the chance to add some additional words on this installation and on living room acoustics in general.
The living room in the McCue residence presented a number of acoustic issues, some common to many homes, others a bit more unique to Mr. McCue. Common issues for residential family/media rooms can usually be divided into two large areas of concern:
Noise disturbances — what we can call External Acoustics
Sound reproduction — what we can call Internal Acoustics
Although solutions for these two types of problems often involve the same designs, for the moment let's deal with these two issues separately.
External Acoustics
In the McCue residence, External Acoustic issues were discussed and identified, but in the end required no additional work. Cost and priorities determined that these types of external acoustic noise concerns were minor compared to the internal room enhancement goals. For a house with different goals, ground floor conditions and budgets, another approach to these concerns might have resulted in possible changes to the house design.
For example:
1.
If music was desired to be listened to at loud levels (not the case with the McCue room), increased isolation between this room and other spaces in the house might have been desired. In the McCue residence, with this room being open to many of the ground floor rooms, this issue was academic; but in an alternate design, sound-proofed doors and windows could have been used in this room as well as a higher transmission-loss construction in the floors, walls and ceilings.
2.
In critical listening environments, other noises such as air conditioning are often designed to have quieter-than-normal quietness values — referred to as Noise Criteria (NC) levels. This was discussed with the McCues and also agreed not to be a critical issue in this house. In dedicated home-theater rooms I would recommend that quiet values (NC30 and below) be designed.
Internal Acoustics
All of the "additional" acoustic work in the McCue residence living room was dedicated to its primary use: listening and performing. In other words, dedicated to improving the internal acoustics of the room — improving the accuracy of what people hear in the room. David McCue is a concert pianist and opera fan, he loves to play and perform, and he envisioned the living room as a small concert hall for piano and three-to five-piece ensemble performances. One area of the room is slightly raised and doubles as a kind of stage — the grand piano lives here. Additionally, this room is the primary listening room for a high-quality stereo playback system.