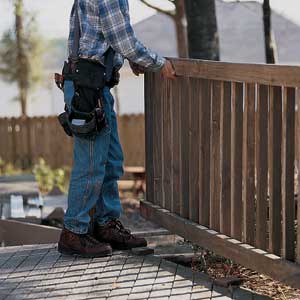 Step 4: Redoing a Railing

Because the original railing on their deck was in such bad shape, the Johnsons decided to replace it with a maintenance-free railing system. They chose Fiberon, a vinyl-coated wood-plastic composite that costs about $70 per 6-ft. section. It's available in premade panels or as kits. The Johnsons liked the contrast the white railing offered.

For an existing deck or concrete slab, Fiberon makes a surface-mount bracket, as shown below. For new decks, the manufacturer recommends installing the posts before the decking and using metal brackets that attach to the joists. To conceal any minor gaps where the balusters meet the bottom rail, Graf recommends using a mildew-resistant acrylic caulk.