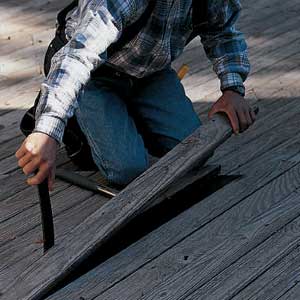 Step 1: Making Repairs

Begin by inspecting the entire deck. Pay special attention to any part of the deck that is in direct contact with the ground, such as the posts, stair stringers or joists that are at ground level. Graf uses a screwdriver to check for structural damage. "If you can sink the tip of a screwdriver into a post or joist, it means the you've got rot and it's time for a major renovation," Graf says.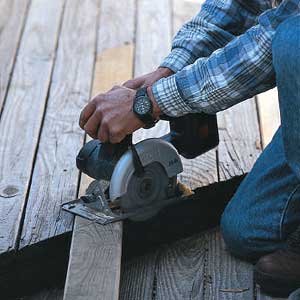 Also, inspect the deck-to-house connection. "Screws and bolts can loosen and rust," he says. "Without the proper use of spacers and flashing, moisture can cause your band joist to rot."
Tighten the fasteners that attach the deck to the house, look for any missing, bent or rusted flashing and carefully inspect inside and out for any telltale black stains that suggest moisture is working its way into your home.
Next, look for any cosmetic damage. For example, tap down any popped nails or consider replacing them with screws. For the Johnsons' deck, Graf used galvanized ring-shanked nails when he replaced a few damaged boards. "Screws don't pop like nails, " he says "but we want the new boards to match the rest of the deck."
TOH Tip:
If you need to rip replacement decking to match existing boards, use a tablesaw. Ease the sawn edge using a router fitted with a
⅜
-inch roundover bit.
Carefully inspect railings and decking for loose wood. "No one likes to catch a 2-in.-long splinter on the hand or foot," Graf says.