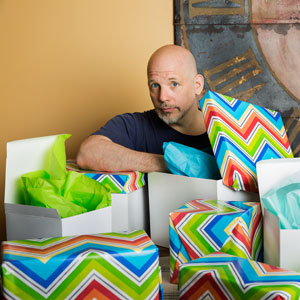 We've got a long history of helping out here at
This Old House.
Not only have we been aiding homeowners on our flagship TV show for three and a half decades, the
TOH
staff has also spent the past 14 years participating in HomeFront, a daylong volunteer effort to help disadvantaged but deserving homeowners restore a little livability to the place they, well, live. A few weeks ago, our staff gathered on a Saturday to help a hardworking great-grandmother in Norwalk, Connecticut, rejuvenate a small deck, install a new vanity and water heater, and replace tired and overgrown landscaping with new shrubs and perennials.
Though such events aren't without the occasional sunburn, blister, or hammered thumb (or, if you're like me, all three), they're great days. And this year it was a bit less painful, thanks to Advil, which not only sponsored the event but also provided actual, practical relief in the form of over-the-counter aid to a few folks. For that, we are grateful. You can see pictures of the
TOH
crew at work on
HomeFront day.
Now, there's another way we like to help out, too, and that's with this issue, the Great TOH Giveaway. That's giveaway. As in prizes. For free. What started out just a few years ago as a modest sweepstakes to win some $30,000 worth of product has blossomed into a full-grown phenomenon, with hundreds of thousands of people clicking boxes millions of times to get their hands on the goods they need to make their homes a better place. And this year that's $728,000 in goods, to be exact. Actually, if I were being truly exact it would be $728,840.12. But you get the idea. That huge dollar number is a testament to the TOH reader. So valuable do manufacturers, suppliers, and service providers find your passion for home improvement that they're anxious to get their products in front of you any way they can.
And we're not talking about trinkets, either. Our terrific long-term partners
DaVinci Roofscapes
and
Simonton Windows,
for example, are giving away $75,000 and nearly $50,000 of product, respectively.
American Standard
is ready to ship out more than $55,000 worth of bathroom and kitchen necessities to winners. And there are dozens more products, from
Clopay
garage doors to
TimberTech
decking and railings to
Unico
small-duct HVAC to engineered siding from
BarkClad
to window treatments from
The Shade Store
to, my favorite, steam showers from both
Steamist
and
Mr. Steam.
You can even win trips from the
American Queen Steamboat Company
and
CroisiEurope,
which is great because, as we all know, the only thing better than getting free stuff for your remodel is being able to take a vacation from the remodel work!