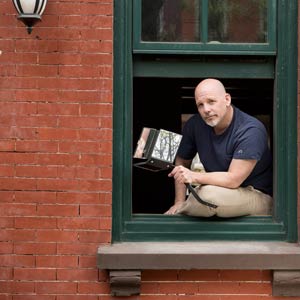 July 2014

Pictures or it didn't happen, the saying goes. But how often do you have the camera handy just when a wild turkey comes strutting down the sidewalk in front of your house?

Maybe turkeys aren't so unusual for you, but I live in a rowhouse in a city of 52,000 men, women, and children, hemmed in by railroad and highway, only a square mile in size, and just 2.2 miles from Times Square as the, uh, crow flies.

Pigeons we get. Wild turkeys—not so much.

And yet, here was this gobbler gallivanting right down Garden Street one recent evening, prancing between parked cars and passing me just like a neighbor on her way home from work as I stood at the gate. And for the skeptics among you: Yes, I most definitely saw the bird, and no, I hadn't been sipping any of its namesake booze.

Anyway, the turkey's appearance wasn't really the odd part. The odd part was that it showed up on the anniversary of Ben Franklin's death, which I learned while looking up facts about the birds, such as whether they spend much time in Hoboken. As you may remember from grammar-school days, Ben thought the turkey a better representative of the young United States than the bald eagle, which he considered to have "bad moral character." Odder still, the sighting happened just as we were in the middle of preparing this issue, our All-American issue.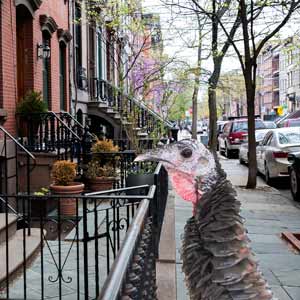 I'm not a superstitious man, but the turkey's appearance seemed like some kind of omen, an augury of the state of the nation, maybe. Good or bad? Well, the union has had its share of challenges in the past 10 or 15 years. But if the stories in the pages that follow are any indication, I'd suggest that turkey came to remind me that the spirit of old Ben himself—his penchant for civic improvement, self-improvement, inventiveness, and knowing a thing or two about electricity—is alive and well from coast to coast.
You'll see it in our roundup of
old-fashioned hardware stores
; in the portrait of
artisan Laurie Crogan
; in the American-made building products
TOH
general contractor Tom Silva discusses in Ask This Old House; and in my favorite story, "
American Classics,
" a look at the iconic products we grew up with that are still made on these shores.
Take a look and let me know what you think. I'd say you'd be some kind of a turkey to disagree, but under the circumstances…

scott@thisoldhouse.com