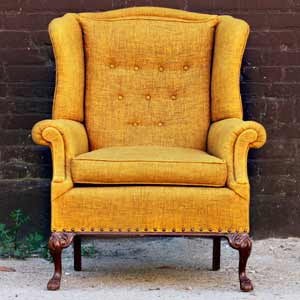 Do The Math:
Before you buy, measure the piece to make sure it will fit in the spot you have in mind. Call around to get a rough quote for reupholstering, too. Depending on where you live, you can spend $350 to $700 to restore a large chair and around $1,000 for a sofa—not including the cost of fabric.

Know What to Expect:
If you hire a pro, make sure the price includes the installation of new padding and the labor for retying coil springs. If you're tempted to tackle the project yourself, Brown recommends a pneumatic stapler and a hand upholstery tool kit ($169; DIYupholsterysupply.com). No sewing savvy? No worries. "There's actually very little sewing involved—you'll mostly just smooth and staple fabric," she says. Which makes the prospect of restoring that wingback a lot less daunting.