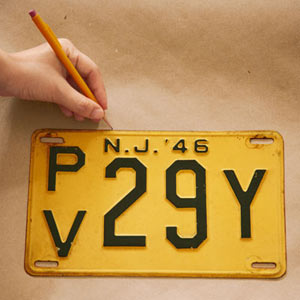 The How-To
Trace a template for each object onto kraft paper—newspaper also works in a pinch—and cut them out.

Arrange the templates on the floor until you find a composition you like; ours is in a windmill pattern. Transfer the arrangement to the wall, gently adhering the templates with painter's tape. Make sure you're happy with the spacing and the height of the entire group; the center of the grouping should be at eye level.

To hang the items, drive fasteners halfway in, right through the template. Tear off the paper and secure the items. Then stand back and admire. You've elevated your collectibles in a whole new way.