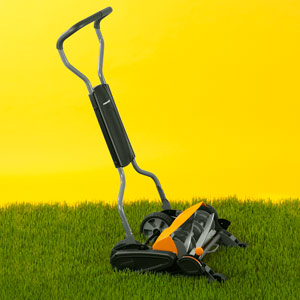 Thank engineering upgrades for giving the old-fashioned manual mower added traction. Along with fume- and fuel-free exercise, the latest models offer owners of small, tidy lawns sharper cuts and more cutting-height choices. New features also allow mowers to roll more smoothly and handle more nimbly than the clunkers of yesteryear. All this adds up to a healthier lawn and less work. Read on for five ways to compare models before deciding which fancy clipper to let loose in your yard.
Check out the blades and reel
Thicker, heavier steel blades, like those on this 44-pound model, add power and can slice through dense grass, weeds, and small twigs that can jam other mowers. This one's blades can go six-plus years between sharpenings because a miniscule gap prevents them from directly striking the cutting bar, so they experience less wear and tear.
Shown:
Fiskars StaySharp Max Reel Mower, about $250;
fiskars.com