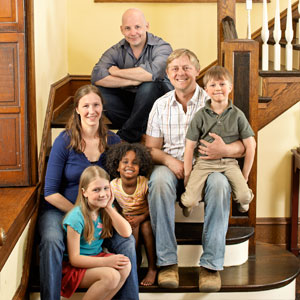 March 2014
It's that time of year. The time when you guys send us your tips, ideas, essays, and project photos for our annual reader-created issue. And send you do; last year we pored over more than 30,000 photos in the Search for America's Best Remodel, the issue's centerpiece. It's a lot of work for us, looking at your work, but it results, I think, in
This Old House's
best issue of the year—not to mention our favorite.
Yes, there will be one big winner who gets the eight-page feature story, and there will be five runners-up, and they'll all get a modest amount of cash. But, in the end, we'd like to think that everyone who contributes to
TOH's
reader-created issue is a home-improvement hero.
And still every year, when we select our favorite redo, we're asked, "Exactly what makes a remodel America's best?"
Well, I can tell you this: It isn't what went into the renovation of the $114 million townhouse I saw in
The New York Times
the other day. I mean, anyone can do a remodel like that. If you have $114 million dollars. And a taste for toilets, bidets, and tubs hand-carved from single blocks of Italian onyx. Not that people should have that taste. Mostly it's...distasteful.
But when has money ever stopped someone from making what could have been a best remodel the worst remodel? That's why, I guess, I'd answer the question above by saying that dollars definitely ain't the top criteria when we choose America's Best Remodel.
This won't come as a surprise to our regular readers, but
TOH
isn't really about price tags—it's about home and family and the desire to do right by both. And so, to us, a best remodel has a little bit of the soul of its owners behind every wall and on every piece of trim. It has heart in every finished surface and installed fixture. The best remodel has sweat equity, maybe a drop of blood, a tear or two or more, some help perhaps from Mom or Dad or a handy sister or brother, and definitely not an onyx toilet bowl.
I mean, I suppose it could have an onyx toilet bowl, too, but Mom would have had to do the carving, Dad the polishing, Bro would have cried into it at some point, and Sis would have bled all over it after smashing her thumb with a hammer.
Heart and soul and a more-than-decent job by very decent people is what we're looking for, and last year we got thousands of entries. Could your remodel be a winner? Let's find out. Enter your project at
thisoldhouse.com/yourTOH
.