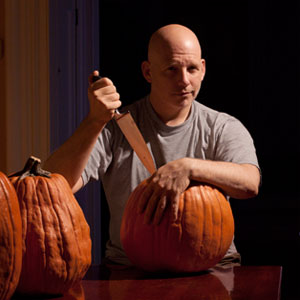 October 2013

Things that scare me:

Short men with limps who dress all in black.

Really short older ladies with childlike voices who trill, "They're baaaack."

Contractors of any height.

The cost of replacement windows.

Mummies, once they get out of their sarcophagi and start moving around. (Why, for the love of Pete, do they always have to do that?)

Dudes with heavy boots, high foreheads, and bolts in their necks.

Any DIY project my brother wants me to help him with when he says, "It's easy—it'll only take an hour."

And finally, the fact that someone let me have a knife as big as the one in the photo. (I could hurt myself with that thing.)

Oh, also, you people. You people scare me too.

I mean, I wouldn't scream like a little girl if I saw you. I probably wouldn't even cross the street if I noticed you coming my way. Unless maybe I suddenly heard the Deliverance theme music playing.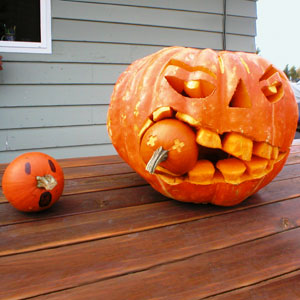 But, to be honest, I do wonder about your sanity. See, it's that spooky time of year, the days before Halloween, when you toss out common sense and take to carving up squash like alien serial killers carve up students in a cabin on the Syfy channel. That's right: It's the start of the TOH Pumpkin-Carving Contest, our sixth annual, which officially begins September 24.
Through the years, you've amazed us with your skills, making traditional jack-o'-lanterns cut through and lit from within, sculpting the exteriors of pumpkins into all manner of macabre relief, and turning those fake-pumpkin Fun-Kins into the wildest imaginable scenes of the eerie season.
You have taken our house,
This Old House
, and turned it, via your round orange canvases, into This Old Haunted House, This Old Monster House, This Old Witch's House, and This Old Zombie House. I'm not sure how many scary houses are left after that run, but I'm looking forward to what you come up with. You can enter now at
thisoldhouse.com/pumpkins
. The winner receives a $500 gift card. And, as always, we'll judge the best of them and post the winning entry—and the
24 runners-up
—on
thisoldhouse.com
on October 30. Ghoul luck!