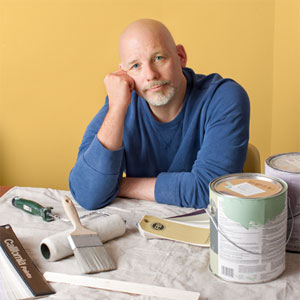 September 2013

What have you written, a hundred of those Letters?" my wife asked me.

"I've written about ninety," I said to her, moving my laptop's cursor one spot right, then one spot left with the arrow keys. I was fiddling, stalling on writing my Letter From This Old House. In fact, I'd stalled all weekend.

"That many makes you practically a semiprofessional," she said, smiling.

"Um, thanks, but this one is harder," I said, moving the cursor two spots right, two spots left. "TOH has never photographed our remodel from top to bottom before. I don't know what to say about that."

"You could say now you know what everyone else goes through," she offered. "Or look at it this way: At least you're not embarrassing me by showing them what a dump the place used to look like."

"Yeah," I said. Three spots right, three spots left, and I thought, Yeah, indeed. See, unbeknownst to her, that wasn't exactly true.

"They'll be inspiring to people," TOH deputy editor Kathryn Keller had said, that Friday afternoon before I left the office. She was talking about attaching "before" photographs to the story of my remodel.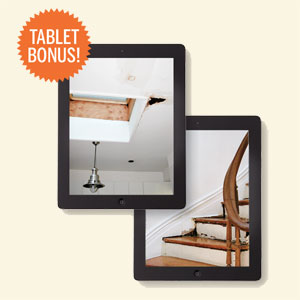 Not surprisingly, that gave me some tiny bit of pride, the opportunity to be inspiring, until she followed up with a hoo-boy laugh and "What a sight to see!" She practically slapped her knee.
"I lived in a dump," I said, glumly. She nodded.
Now unfortunately, I can't show these "before" pictures in the print edition of
TOH
. My wife gets a subscription, and I can't risk it. For some reason, though, she hasn't started downloading the tablet edition yet. Which is just silly, since for her, as for all our other subscribers, it's free. But her loss is your gain, because if you go to
thisoldhouse.com/tablet
and follow the instructions, you'll be able to access our digital edition, which is loaded with extras—interactive step-by-step projects, tappable tips, videos, and, of course, the dreaded "before" photos of my own remodel.
In looking over the crumbling plaster, the collapsing stairs, and the damage unchecked termites can do when they tie on the dining bib, I couldn't believe three things: what bad shape the place had been in, how far it had come, and why my wife ever agreed to marry me knowing what a dump I lived in.
Download the issue
and let me know if you agree.