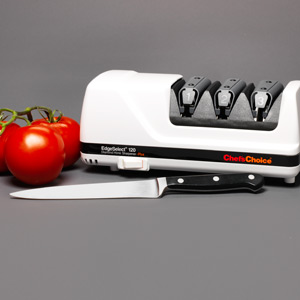 You can't cook without a knife, so it's frustrating when the one you love no longer cuts it; if only maintaining a sharp edge were as easy as losing it. Pros keep their knives in shape by regularly honing them, drawing the blade down a butcher's steel at the perfect angle to realign microscopic finger-like serrations along the edge. When hard knocks—like hacking through chicken bones—wear the edge down, pros pull out a whetstone and expertly shave away just enough metal to create a sharp new one. No wonder mere mortals long for an easier fix than steel or stone. Cut through the clutter of options with these tips.
Shown: Chef's Choice Diamond Hone EdgeSelect Model 120, about $150;
wayfair.com
Know Your Knives
Most knives have European-style edges beveled on each side at a 20-degree angle; Asian-style knife edges are narrower. And what about bread knives with scalloped edges? Choose a sharpener designed for your knives.