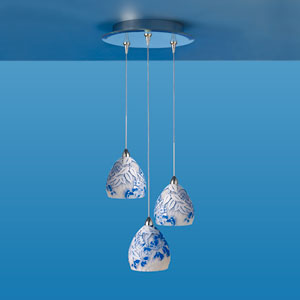 Will It Put My Table in a Good Light?
Part chandelier, part track light, and part DIY design, today's multipoint pendants offer the convenience of a single connection with the impact of up to 12 bulbs. You choose the canopy, fittings, and shades and decide how to arrange the pendants: at the same height, staggered like wind chimes, or offset to give each one its own profile. Stringing these multipart confections together can be a challenge, making installation perhaps best left to a pro. But before you get to that stage, follow these tips to make sure the fixture fits your space.
Cameo pendants with Mirrored Canopy by
WAC Lighting.